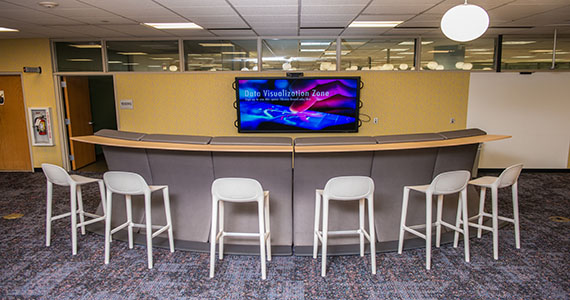 The Data Visualization Zone is located in the Dragons' Learning Den in the W. W. Hagerty Library. It is available for student exploration of data retrieval and visualization, mapping and analysis with geographic information systems (GIS), and the use of gesture to manipulate images. The Zone is a place for students to explore this area of data literacy alone, in a group or with assistance and includes a large scale interactive display space to experiment with innovative technologies/media and data.
Learn more about the Data Visualization Zone or reserve the space.
The Practice Zone
This collaborative work space includes an 80" ThinkHub monitor with a multi-user software application designed to help groups brainstorm, collaborate, visualize and problem solve together on screen. You can share content from your personal devices to ThinkHub via USB drive or Bluetooth technology.
Learn more about The Practice Zone or reserve the space.



The Clubhouse
This workspace includes a wall-mounted monitor so you can work in groups collaboratively or practice presentations in a semi-enclosed space.