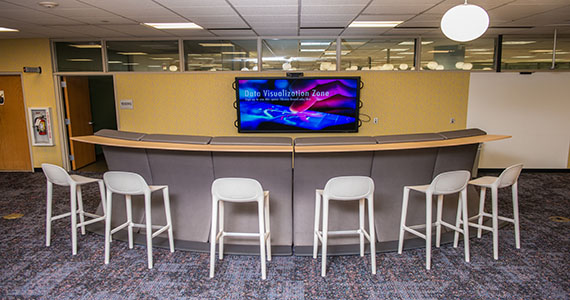 The Data Visualization Zone is located in the Dragons' Learning Den in the W. W. Hagerty Library. It is available for student exploration of data retrieval and visualization and mapping and analysis with geographic information systems (GIS). The DVZ includes an 80-inch flat panel monitor with USB ports and HDMI connections, allowing students to view sample data visualization projects and research data to deepen their data literacy skills. Members of the Drexel community can reserve the space using the Libraries' room reservation system. Visit the Service Desk on the first floor of the Library to check out an HDMI cable to connect laptops or a wireless keyboard to the Windows PC linked to the 80" monitor.
Learn more about the Data Visualization Zone or reserve the space.
The Practice Zone
This collaborative work space includes an 80" ThinkHub monitor with a multi-user software application designed to help groups brainstorm, collaborate, visualize and problem solve together on screen. You can share content from your personal devices to ThinkHub via USB drive or Bluetooth technology.
Learn more about The Practice Zone or reserve the space.



The Clubhouse
This workspace includes a wall-mounted monitor so you can work in groups collaboratively or practice presentations in a semi-enclosed space.